May 28, 2018, Toronto Canada – Boffin Language Group Inc. is pleased to announce that it is now ISO 9001:2015 certified after a successful ISO 9001 Certificate of Quality Management System audit by Universal Certification Service, a prestigious ISO certification agency.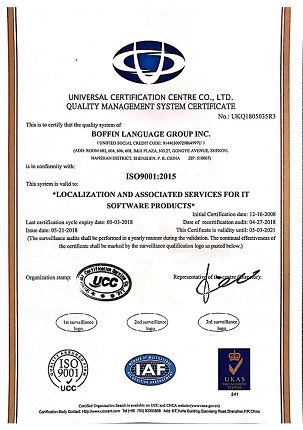 Boffin firstly acquired ISO 9001 certification back in 2008, and has always been striving to be customer-focused and to provide the highest quality. Boffin recognized the importance of processes and quality management since its inception. The firm began working towards ISO 9001-2000 certification in early 2008, bringing additional improvements to its workflows and processes in Production Management, Human Resource Management, Supply in Production Management, Human Resource Management, Supply Chain Management and Knowledge Management, and continues to move forward with a Plan-Do-Check-Act (PDCA) cycle of continuous improvement.
"Our strategy of establishing an operation system able to compete on an international level, as well as building a team of world-class international talent, works together with our ISO certification to help us provide better services to our clients and enhance company management, quality control and more," says Richard Shi, CEO of Boffin Language Group Inc. "Boffin's clients can expect the ongoing addition of value-added services and high-caliber international talent, as well as the security of knowing they're working with an international localization firm that sets the standards in the localization industry."
About Boffin
Founded in China in 1996 and headquartered in Toronto, Boffin Language Group Inc. has secured a strong niche position and a reputation as a reliable provider of high-quality translation and localization services, primarily for the Chinese Simplified, Chinese Traditional, Korean and Japanese languages. Boffin is also an established engineering service provider, handling software localization, QA testing, DTP, and audio/video engineering as well.
For more information, please visit www.boffin.com.