July 15th, 2021 - Boffin Language Group, a leading provider of language services specializing in Asian languages, announced that it is listed #28 of the Top 30 Largest Language Service Providers (LSP) in North America by CSA Research (formerly known as Common Sense Advisory), an independent market research company focusing on best practices in globalization, internationalization, localization, interpreting, and translation.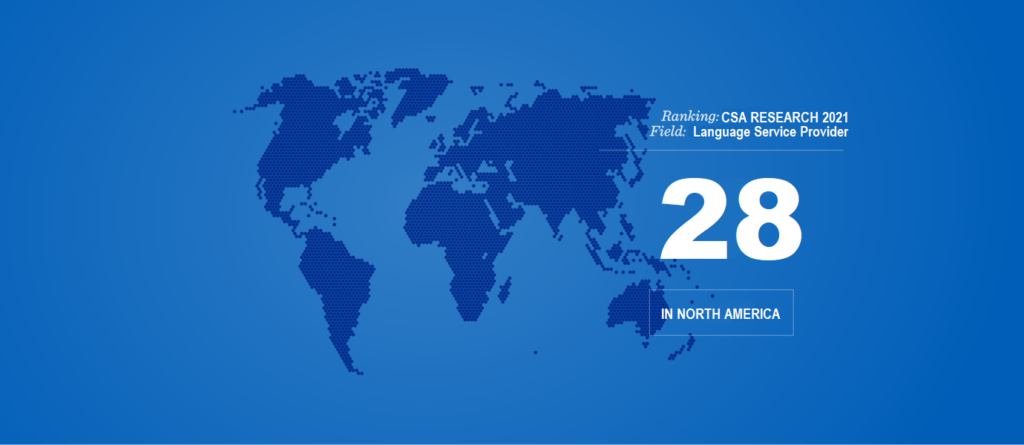 The past year has seen unprecedented changes brought on by the global pandemic and many companies had to pivot quickly to respond to the constant changing situations. Boffin stepped up to the challenge by continuing to support our clients anyway we can with our dedicated team of highly skilled professionals and ISO-certified processes. We owe this success to the dedication and performance of our exceptional team around the world.
Over the past 3 years, Boffin experienced a gradual and significant growth in revenue as we saw an increasing demand in localizing video games, eLearning videos and corporate videos. We were able to hone our expertise in video localization as we gain more recognition and trust from our clients. This allowed us to put more resources into this area of growth, open another production office in Changsha, China as well as expand our team across Canada.
Boffin is pleased with its steady growth in the global language services industry, in such a large and competitive market. We will continue to deliver outstanding quality of work, efficiency and reliability beyond the unique COVID pandemic and through the economic recovery.
If you have translation or localization needs, request a free quote or consultation with one of experienced team members. We will be more than happy to provide you with a customized quote.
About Boffin
Founded in China in 1996 and headquartered in Toronto, Boffin Language Group Inc. has secured a strong niche position and a reputation as a reliable provider of high-quality translation and localization services, primarily for the Chinese Simplified, Chinese Traditional, Korean and Japanese languages. Boffin is also an established engineering service provider, handling software localization, QA testing, DTP, and audio/video engineering as well.

For more information, please visit www.boffin.com.